Interpretation in Moscow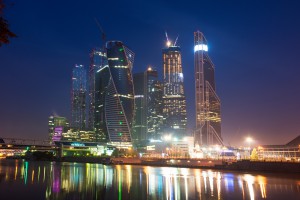 We are in the planning stages of our next interpretation assignment in Moscow, a meeting between a few American business men and their new counterparts in Russia. The interpreter is fluent in both the Russian and the English language and is able to switch from one language to the next instantly.
Before the date of the assignment, the interpreter must become familiar with the topic of the meeting, with the organization and positions of the people attending the meetings, as well as the locations. Any document available in advance helps the interpreter to prepare.
A few days of meetings and negotiations, visiting different companies, meeting new people and exchanging even small talk can be very challenging at times. On the other hand, every interpreting experience can also be extremely rewarding in many ways. During the time the interpreter accompanies people, he or she shares time, knowledge and interests and meets new interesting people.
The interpreter needs to keep his eyes and ears open at all times. Many new details and facts become available during the meetings. It is important to translate the information from Russian into English and back into Russian, delivering the content of the conversation pure and clear for both sides. Besides being fluent in both languages, the skill of interpreting also requires a broad outlook on current life. Any interpreter has to be able to answer questions about the country, city and be familiar with historical events and places.
During the interpretation, it is important to provide unbiased translation and to leave any emotions or opinions out of the translation. This is the main task of every interpreter, but staying reserved and inconspicuous during interpretations of negotiations can often quite challenging as one always listens subjectively.
The feeling of success is very rewarding when an assignment is complete, the interpreter praised and negotiations were successful.